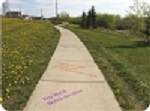 Phase 1 of this project is now completed in front of Father Michael Troy Jr High School with 20 poems chosen by a community jury and sandblasted onto the  sidewalks in the Wild Rose neighbourhood this summer, 2016. 
This is a call to anyone living or working in The Meadows areas of Larkspur, Wildrose, Silverberry and Laurel to send us your original, unpublished, short (4 lines or less, untitled) uplifting poems. These chosen poems will be installed in the next two phases, in front of Velma E Baker Elementary School and Silverberry Playground.
You can drop off your poems at the Meadows Library, along with your contact email, or you can send them to the project administrator at amatejko@telusplanet.net
Imagine your words of inspiration, your little love letter to the world, inspiring people for decades  – a joyful, long-lasting legacy!
Submit soon and often!