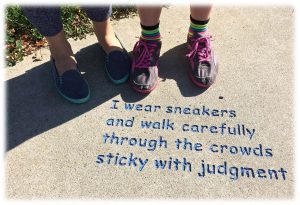 Submit your poem(s) for possible inclusion in Poetry Pathways in the Meadows. This is a Meadows Community league initiative: family-friendly art installation consisting of poems written by community members and sandblasted into area sidewalks.
Submission guidelines:
area resident submission
original poetry
four lines or less
community friendly
a small honorarium will be given for selected entries
submitted works will be selected by a community jury
submissions will be acknowledged on a plaque with the school or community name only
include your contact information (or contact information for parent/guardian if under 18)
Deadline for submissions: May 1, 2017
Submissions can be emailed to the project administrator: amatejko@telusplanet.net or handed in to any Meadows Community League board member.
Click here for full details and submission form: Poetry Pathways in the Meadows