Family Games Night in The Meadows
*LEAGUE MEMBERS ONLY*
The next Family Games Night will be at the Meadows Recreation Centre on Friday, April 29th. All games will be provided, though you are welcome to bring games with you. Bring the family and come meet your neighbours!
Price: $5.00/Family (to cover the cost of snacks)
Not a league member yet? Purchase your membership here!
Location: Meadows Recreation Centre 2704 – 17 Street @ the Meadows Community Room on the 2nd Floor
Time: 7:00pm – 9:00pm
If you have any special accessibility or accommodation requests, please contact us before the event programs@themeadowscommunity.ca
RSVP HERE or email us for more information programs@themeadowscommunity.ca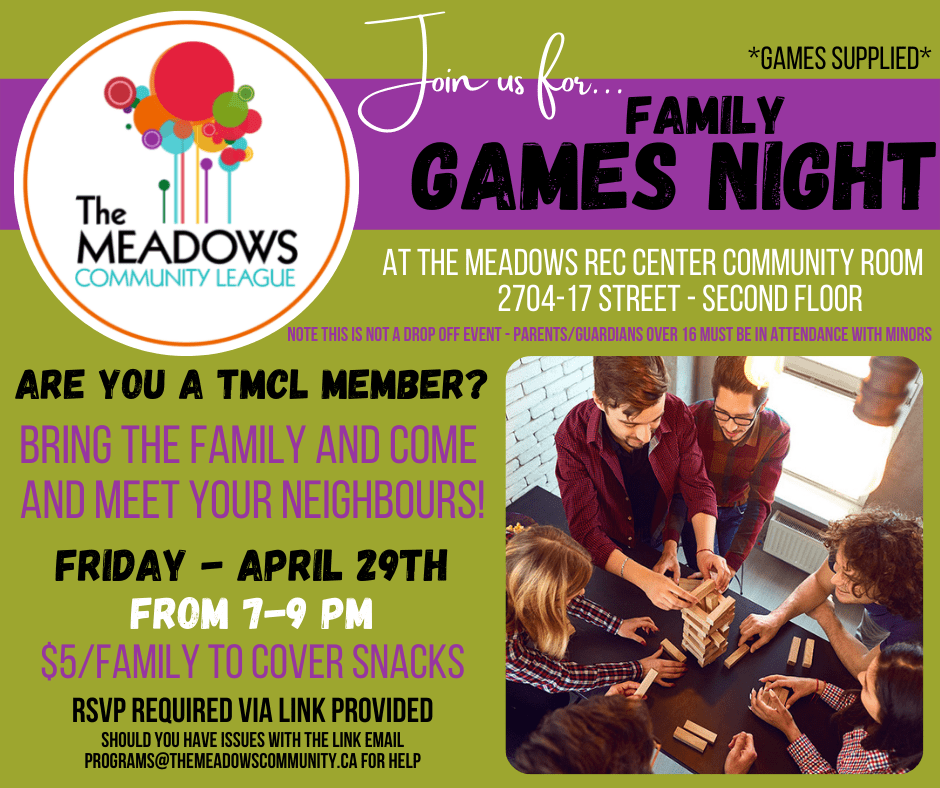 Image ID: A group of 6 people are gathered around a table playing Jenga. The image perspective is from above, so we can see some of the tops of their heads, their arms and hands. Curly brown hair, straight black hair, wavy blonde hair, and short brown hair. The two predominant people in the image are wearingbutton up shirts, one is open and it is maroon in colour. The person has a goatee and white skin with short brown hair. The person beside them has a buttoned up plaid shirt in maroon and dark orange. They also have a some facial hair, white skin and short brown hair with glasses. There is a white brick wall behind the group in the upper left hand corner of the image, and w window with light coming in from the upper right corner of the image.