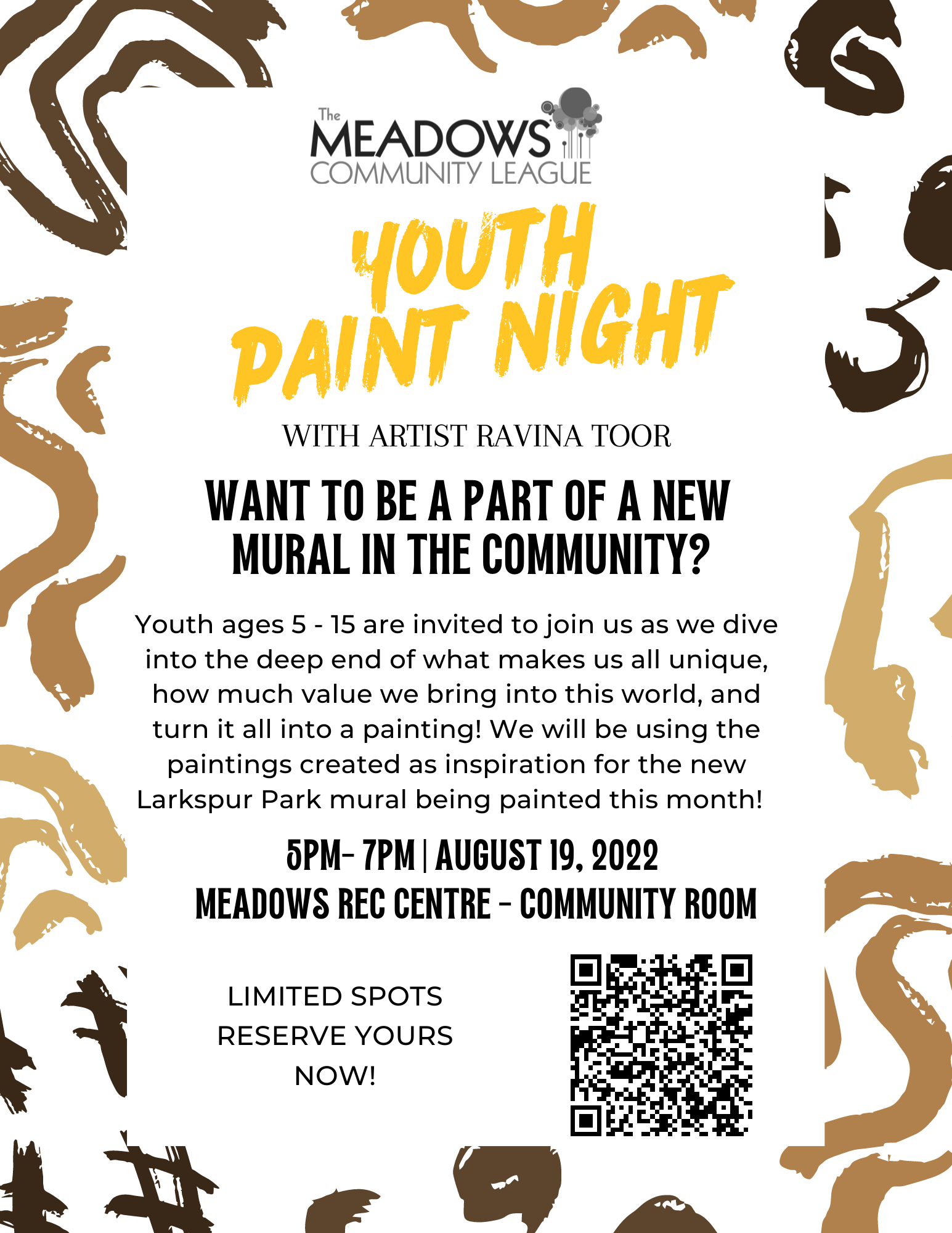 The Meadows Community League has teamed up with local artist Ravina Toor to explore the themes and concepts proposed by community members in our mural survey from this spring. Through that survey, Meadows residents identified the following themes as the desired focus of the upcoming mural design.
• Cultural Diversity
• Children & Youth
• Belonging
• Connection
• Nature
Through this workshop, local youth are encouraged to engage and create their own works of art that include these themes. Ravina will guide them through the process of setting up and putting their ideas on canvas. The final works of art will be photographed and used by Ravina to influence her final design for the Larkspur Rink Mural Project. All children participating in the event will be able to take their completed work of art home with them.
Date/Time: Friday, Aug 19th 5:00PM – 7:00PM
Age Range: 5yrs – 15yrs *(must be accompanied by an adult)
Supplies provided: Canvas, Paint Brushes, Paint, Pencils
Total Participants: 20-25
*No Cost to Participate!*
Questions? Email us at communications@themeadowscommunity.ca
Artist Bio
Ravina Kaur Toor's a self taught multi-disciplinary artist who's artwork respects a microcosm of collectiveness, visually encapsulating her deep admiration for her Punjabi-Sikh roots. Fusing art with personal experiences as a second generation child, Toor engages with the conversation of dual-identities and the importance of celebrating one's ancestral roots. By integrating, expanding, and regenerating advocacy in art, she brings light to the importance of showcasing how connected we truly are, and the power of standing as one.
In addition to running an e-commerce business and growing an online following of over 70,000 and counting, Toor was commissioned by the BUMP Festival of Calgary to paint a mural in downtown in 2021. This year, Toor starts a few new mural projects in Edmonton in addition to working with community organizations and facilitating paint nights targeted towards youth in the community throughout Alberta. Toor is also working on her very first Children's Illustration book that focuses on celebrating our roots and the influence land has on our identity. As an artist and facilitator, she is motivated in working with youth to create artistic opportunities that she wished she had growing up.
Visit her website here: https://ravinartoor.com/